This Little Boy's Note To His UPS Driver Is The Sweetest Thing Ever!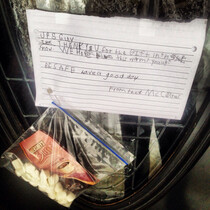 Posted December 10th, 2013 @ 8:06am
Reddit user IAmCMac posted the photo above Friday with the caption, "When my son learned that UPS still delivers in the snow..."
"He just so happened to come in the 30 minutes we were playing outside, so they got to give [the gift] to him in person," IAmCMac commented. "He was very sweet to them."
Via Reddit