Baseball Player Took Off His Hat, Jersey, and Shoes After a Game, and Gave Them to a Terminally Ill Kid in the Stands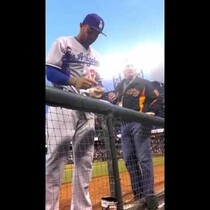 Posted May 8th, 2013 @ 6:56am
Dodgers outfielder Matt Kemp is big on YouTube, because of something he did after a game against the San Francisco Giants on Sunday.
One of his coaches had told him about a young, terminally ill Dodgers fan who was seated in the front row near third base.
So Kemp went over to gave him a signed baseball. Then he also tossed him his hat, took off his jersey, and even untied his shoes and handed those over.